How to choose the right channels of communication to grow your business?
Many factors influence the selection of the right marketing communication channels that will effectively reach your target audience. Each communication channel has its merits, but how do you choose the right channels to achieve your aims?
Will your success come from using Google Ads, your networking memberships and LinkedIn InMails? Or, will it be from online webinars and face-to-face seminars? Or, is it going to be by advertising on Twitter, Snapchat, Pinterest and YouTube? How do you select which communication channels to use?
Before selecting communication channels, know your business aims:
The overriding principles of marketing are straightforward once there is clarity on what you wish to achieve. A structured approach brings the many variables into focus allowing you to choose the right approach for your business that will achieve your aims.
Start by answering three questions to create your strategic plan:
Where are we?

Where do we want to be?

How do we get there?
The marketing plan is then created; what product, price, place, process, people and promotion?
Your 'promotion' will focus on:
Who are the primary targets; companies, purchasers and influencers?

What is the compelling messaging to them?

What are the right communication channels to carry your messages to targets?
So, now to the original question.
How to choose the right channels of communication to grow your business?
When reflecting on the marketing communication channels available to reach a target person or group of people within a target prospect company the options available to you will vary on whether you know, and have the contact details of your target audience, or not. For example, let's say you wanted to reach a Company Managing Director:
Scenario 1: You don't yet know specifically who the Company Managing Director is, you don't their have contact details let alone securing their explicit permission to contact them.
Scenario 2: You know exactly who the target Company Managing Director is, you have their contact details and have obtained appropriate permissions to contact them.
When selecting the right channels of communication to address these two scenarios we consider both outbound and inbound marketing strategies.
Outbound marketing is where you are pushing your message out to your target audiences. This is basically a disruptive approach where you are 'force feeding' your messages to your audience hoping they are compelled by them and engage with your business.
Inbound marketing is where you are marketing to your target audiences as they engage with your business. Inbound is often referred to as pull marketing as you are pulling your customers towards your business.
Linking outbound and inbound marketing to the described Company Managing Director scenarios will aid selecting the right communication channels. The three lists below illustrate the main marketing communication channels that are available to communicate in each scenario:
Outbound Marketing Communication Channels - Scenario 1:
Selected keyword-driven ads & search engine marketing
Targeted and remarketed display advertising
Boosted social content
Social media #hash tag posts
Socially shared content
Non-TPS cold calling
Targeted LinkedIn InMails
Using the communication channels of others (e.g. Industry newsletter)
Trade shows & exhibitions
Press releases & placements
Public Speaking
Sponsorship
Business networking
Catalogues placements
TV, Radio, Poster campaigns
Blogger communities
Social forums & communities
Analyst relations and their public endorsements
Outbound Marketing Communication Channels - Scenario 2:
Automated email nurtures
Newsletters
Personal 1-2-1 email
Social posts
Very targeted display ads & boosted content
Telemarketing
Sales Calls
Sales meetings & demos
Text messages
Instant messages
LinkedIn InMails
Web app alerts
Seminars
Webinars
Direct mail
Letters
Surveys
Hospitality & events
Inbound Marketing - Both scenarios:
Engaging website
Campaign landing pages
Dedicated microsites
Downloadable web app
E-commerce channels
Webchat
Informative blogs
Interactive FAQs
Compelling CTAs
Engaging content (e.g. eGuides, Infographics, videos, etc.)
Personalised content (scenario 2)
Carefully consider the company to customer engagement journey:
The key to selecting the correct and best-performing communication channel/s from the lists above is to start by closely considering your target audience and the 'company to customer' journey they will take. This journey, depending on what is being sold, can be simple and quick or very complex and long. The illustration below shows an example journey, starting at the left and progressing through the journey stages of discovery (finding you), exploration (exploring your offerings), evaluation (evaluating your business), purchase (deciding to buy) and retention (deciding to stay and grow with you):
Reflecting on this journey for your products, services and solutions will guide you to what communication channels are right for your business to achieve its aims. This along with your available budget and resources will help you determine the channels you should use. One channel alone may not be sufficient to generate enough engagement to achieve your sales aims and other channels will, therefore, be needed too if you have the money and resource to use these.
The stages of the journey can also be directly compared to your demand generation funnel:
The top of the funnel (ToFu) where you are creating the initial demand, the middle of the funnel (MoFu) where you are nurturing the demand to encourage further engagement with your business and then the bottom of the funnel (BoFu) where engagement is 'deep' and you are looking to convert interested prospects into your customers. 
The channels and content will vary at ToFu, MoFu and BoFu. For example, you may use ToFu advertising (also see our blog 'The Benefits of Google Ads') to create interest in your business. Then when someone engages but isn't yet ready to ask for a quote, you may use MoFu emails to nurture relationships and progress interested prospects through your sales and marketing funnel and then when someone is really interested you may use detailed BoFu webinars to help convince them to buy. Your vehicles are changing on the 'company to client' journey or the progression through the funnel.
Considering the ToFu, MoFu and BoFu funnel can help you set key performance metrics:
Considering the funnel helps you determine the key performance indicators (KPIs) of individual communication channels and of the communications channels as a whole. At ToFu you may measure such items as impressions, click-through-rates and the total number of enquiries. At MoFu the number of marketing qualified leads (a marketing qualified lead is one which meets the BANT criteria; budget, authority, need and time). At BoFu such items as the value and number of proposals issued, the number of video references viewed, and maybe demonstrations given. Combined the KPIs are helping you measuring and reflect on engagement and progression through the funnel from your campaigns and chosen communication channels.
Use published data and digital tools to review channel effectiveness: 
When selecting the right ToFu, MoFu and BoFu communication channels to reach, nurture and convert your target companies to customers start by doing some research. In several industries, it is common for over 60% of marketing leads to come from digital channels and there are many tools that enable you to access the reach of a digital vehicle and channel and the likely volume of leads that will come from that marketing vehicle. For example, the keyword analysis tool in Google AdWords will give you a guide on how frequently a keyword may be searched. From this you can project your likely impressions, click through rates, form fills, marketing leads, sales leads and sales orders to determine if this channel is likely to achieve your aims or what it will contribute to your business aims. By using similar analysis on other digital and non-digital channels you can project whether you are planning to create and then convert sufficient demand to achieve success.  
There are many social media channels, which are the right ones for your business?
Regarding social media communication channels, it is important to think about the reach of each channel to your target audience. Most platforms, from LinkedIn to Snapchat, allow targeted advertising. So, whilst you may take a longer-term approach to organically growing your fans and followers you may also wish to use targeted advertising or boosted posts/content to reach an audience of a specific profile to create immediate leads. Targeting can be very intelligent, to segments and individual companies, and some companies will target their ads to individual companies as part of an account-based marketing strategy. Available social platforms focus on networking, sharing (video, photos, etc.) and micro-blogging:
Networking (e.g. Facebook, LinkedIn, Xing, Google+)
Microblogging (e.g. Twitter, Tumblr)
Photo sharing (e.g. Instagram, Snapchat, Pinterest).
Video sharing (e.g. YouTube, Facebook Live, Periscope, Vimeo).
Consider the profile of the users of each platform and whether you are looking to engage through networking, blogging or sharing. For example, if you wish to reach millennials you may wish to consider Instagram (59% of users are millennials) and Snapchat (41% of users are millennials).
If social media is a priority focus channel for your business you will also be interested in our blog '4 strategies to maximise business results from social media marketing'.
If you are thinking of advertising on social platforms and don't know where to start there is an interesting blog by big commerce called The 6 Most Effective Types of Social Media Advertising in 2020. This covers advertising on Facebook, Twitter, LinkedIn, Instagram, Pinterest and Snapchat.
A short video to help with your communication channel considerations:
Here is a short summary video on achieving effective marketing and selecting the right channels to help you achieve your specific business aims: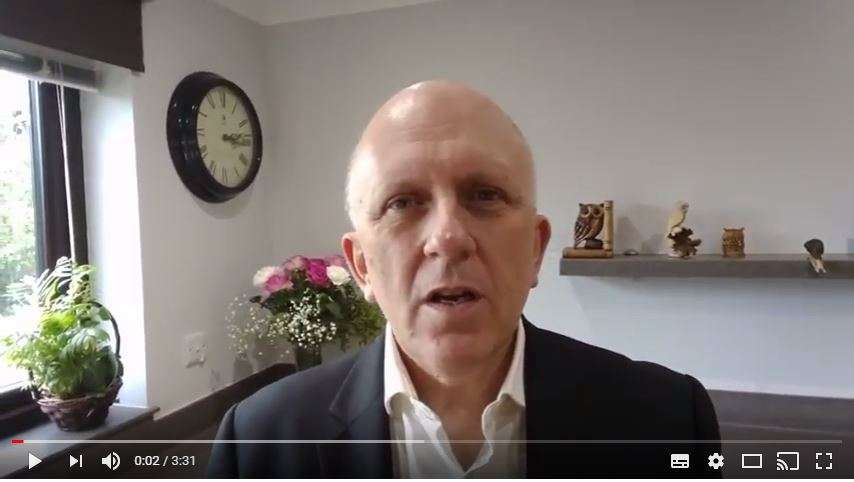 What the research says on marketing communication channels:
There are several researched views on the most-effective marketing channels. Personally, I think it is very challenging to judge the effectiveness of a channel without considering the objective and the target audience. Each channel works to achieve a specific purpose and relatively which is better will depend on what it is you are trying to achieve.
However, as an average B2B perspective, a view by Marketing Charts provides an interesting external perspective on each marketing channels effectiveness in terms of impact on business revenue. Here is a summary of the top 10 B2B marketing channels from thier research:
Something to bear in mind when considering your planned investment:
Analysing the expected impact and results of each communication channel will help you determine how much to spend on each channel. When considering what investment, you are prepared to make on your marketing communication and campaigns it is also important to consider the average lifetime value each new company win brings to your business. A 'trojan horse' type acquisition strategy may initially appear to deliver a low multiplier return but if you consider related repeat and expansion sales, say over a three-year view, it may significantly influence what you are prepared to invest in winning a new client.
Another important consideration when planning your campaigns and selecting the right marketing channels is that company purchases can be made by individuals or by teams and more complex sales will need to consider all of those involved in purchase decisions. 
So in summary:
Each communication channel works to achieve a specific purpose and relatively which is better will depend on what it is you are trying to achieve. Take a structured and considered approach to select the right communication channels. Start with your aims, your audience and think about their engagement journey and the important communication components at the beginning, in the middle and at the end of their journey. Research, using analytics and published data, the reach of your shortlisted communication channels to your specific audience. Project the investment and return from each channel and measure results against your expectations. When using any channel ensure you constantly tweak and optimise your approach to achieve desired results.
Research has shown that with hindsight many small businesses seeking higher growth regret not investing in marketing sooner. If you do the right things in the right way, your desired growth aims can be achieved too.
Interested in further reading to help you create more leads?
If you are interested in further hints and tips to create winning demand generation strategies please also read our blogs '5 tips to improve demand generation results' and 'Create cost-effective agile marketing campaigns (12 steps)'.
Like this? Share it!
About Epitomise:
We help SME and Technology companies use modern marketing strategies to grow. From strategic advice to tactical execution grow your business with the support of a 'top-100' award-winning marketing leader who is supported by a network of expert marketing specialists. With over 20-years' senior marketing experience and a track record of delivering results, as an attentive expert strategic marketing and services company, we help you grow your brand, leads, sales and customers by doing the right things the right way. Help for as long or as short as you need.