Creating Winning Sales
& Partner Channels
Building enabled, progressive & motivated sales channels
Performing sales teams, whether your own or your channel partners, is fundamental to achieving business success. At the core of this success are sales enablement and structured, motivational & progressive sales environments.
We help you target, acquire and onboard new sales channels; establish your sales processes; achieve sales enablement; create motivational & progressive sales & channel partner environments; accelerate sales success.
ON-BOARD
Effectively on-board new sales people or channels
ENABLEMENT
Enable sales personnel to deliver results
PROGRESSIVE
Build a motivational sales/partner environment
ONBOARD
Research
Target
Engage
Plan
Onboard
ENABLE
Aware
Motivated
Skilled
Convinced
Equipped
PROGRESSIVE
Rewarding
Structured
Motivational
Accredited
Certified
Steps to achieving Sales Enablement:
Are sales people fully aware?
Are sellers motivated to sell?
Are sales personal skilled?
Are sales convinced they can win?
Are sales teams fully equipped?
Sales results being achieved?
Maximising business from performing partner channels [Free eGuide]
Ensuring your sales people and your partner channels are fully enabled and operating within a structured, motivational and progressive program can significantly improve business results. This paper explains how sales and partner structured marketing practices can generate significant results.
Download eGuide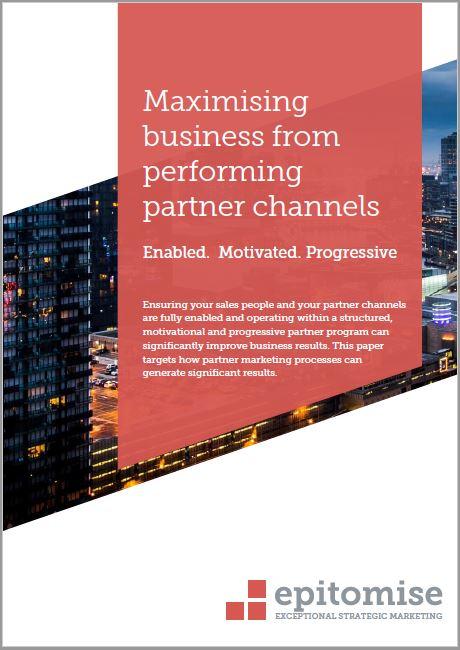 "Steve is true marketeer, he partners with sales to plan & drive targeted marketing campaigns that provide great value and measurable KPI's. He has all the traditional marketing skills that one would expect but he also embraces the new tools such as social media marketing & CRM lead generation."

Robert Carr President - Camera Dynamics
"Steve is a dedicated, creative, and focused marketing leader. His skills and expertise are sought after and he is respected as an expert in both channels and global marketing. His leadership style yields results while generating team camaraderie."


Lindsay Nations Marketing Manager - Siemens