About Epitomise
Helping companies define and achieve ambitious growth aims cost-effectively.Providing exceptional strategic and digital marketing services.
Founded in July 2017, Epitomise supports ambitious SMEs, IT, Tech, and Service companies with strategic marketing, mentoring, and execution services.
As a results-focused strategic marketing company, we help customers to take a considered approach to do the right things in the right way to achieve their dreams and aims.
A proven growth framework (The Transform Accelerator) and a rare combination of highly-experienced senior strategic marketing and expert digital marketing practitioner skills, is used to help customers' plan, prioritise, and execute for growth.  
If you need to research, understand, and target markets, audit your marketing and business, create a strategic marketing plan, launch a new product, create more marketing qualified leads, win new customers, develop an engaging brand, or build a high-performance marketing process and team, we can help.
Our services start from a day a month through to being your outsourced marketing services provider with flexible 'stay sharp' contracting with no lengthy commitments.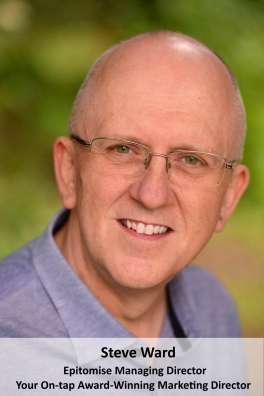 What we do
:
Helping customers grow their brands, products/services, leads, sales, profit, processes, and people by:
* Establishing strategic and tactical clarity to achieve ambitious aims.
* Building results-focused and KPI driven high-performance sales and marketing operational environments. 
* Supporting customers with a full range of digital and traditional marketing best practice services.
* Enabling, building and mentoring successful and respected marketing teams and leaders.
How we do it:
As a proactive partner with a one team approach, growing business and careers by:
* Using proven performance and growth frameworks.
* Taking a considered and prioritised approach with a continual focus on real-world results. 
* Providing senior marketing mentoring, expert advise, and best practice execution support.
* Bringing 30-years industry and marketing practitioner experience helping over 70 companies.
* Using award-winning 'most-influential' marketing.   
* Providing a non-delegated, commercially-focused, attentive, and responsive needs-based approach. 
* Staying up to date as digital marketing experts and practitioners. 
* Taking a targeted, measured, and transparent approach that is constantly optimised.
Where we help:
We help customers strategically plan and implement best practice marketing strategies to achieve their launch or growth aims. For some clients we are their on-tap marketing director and mentor helping their internal marketing resource and marketing agencies, to 'transform, perform and grow' with our structured expert marketing support. For others we are their outsourced full mix marketing agency. Our services typically are in three areas:
* Strategic marketing and business planning and documented plans; including vision, mission, brand and values, markets, competitors, audits, the voice of the customer, targeting, positioning, proposition, messaging, products, pricing, promotion, go-to-market, campaigns, content, roadmaps, targets, budgets, best practices, and marketing operations.
* Mentoring, coaching, recruitment, and training to achieve business, marketing and personal growth plans evolving processes, tools, skills, competencies, agencies, and careers.
* Marketing execution support including digital marketing process setup (e.g. Google My Business, Search Console, Analytics, Tag Manager, Data Studio, marketing automation, social posting, webchat, website visitor tracking, LinkedIn Sales Navigator, etc.); marketing campaign creation; Google and Bing search and display advertising; Merchant Centre and shopping ads; SEO (On-page, Off-Page and Technical); content writing, graphic design and collateral creations (e.g. website, emails, infographics, e-guides, whitepapers, presentations, brochures, flyers, sales proposals, blogs, social posts, whitepapers, direct marketing and letters); social media content and social media advertising (LinkedIn, Facebook, Instagram, YouTube, etc.). We are a Google certified partner. 
Supporting you with highly experienced marketing:
Our value is achieved by combining significant experience, obtained in senior marketing positions within the respected companies shown below, expert hands-on marketing practitioner skills and a proven 'transform, perform and grow' framework.
As Global Chief Marketing Officer at The Vitec Group Videocom Division brands included Anton/Bauer, AutoScript, Litepanels, Integrated Microwave Technologies, The Camera Store, OConnor, Petrol, Sachtler, Vinten, and Vinten Radamec.
Epitomise clients:
Epitomise has helped a wide range of SMEs to transform, perform and grow in both B2B and B2C markets:
* IT and ICT customers are focused on IT Managed Services; Cyber Security Solutions and Services; IT Strategy Consulting; Digital Transformation Solutions; Cloud IT Services; Software Application Development; Telematics; Analytics; and ICT Communication Solutions.
* Electronic and Engineering Tech customers are focused on Design Consultancy; Hardware and Software Development; Vehicle and Machine Electrification; EV Charging Station Design; Process Transformation; Electronic Control Systems; Sustainability; and Electronic Manufacturing Services.
* Business Services customers are focused on Employee Engagement; Customer Experience; Human Resource Management; Business Process Consulting; Business Performance Psychology; Cleaning Services; and Coaching.
* Business to Consumer customers are focused on Home Technology; Home Extension Plans; Online Doctors and Consultants; National Sports; Domiciliary Care; Social Care; Shoe Manufacturing; Physiotherapy; Cleaning; Specialist Food; Preserved Flowers; Home Art; Personal Hygiene; Personal Beauty; Q-Bank Exam Preparation; Astrology Services; and Specialist Furniture.
Our difference:
* A track record of supporting real-world accountable business growth through best practice marketing; strategy and execution
* Award-winning 'Top 100' most-influential marketing with significant senior national, international and global experience
* A rare combination of strategic marketing and expert practitioner experience, so you:
      - Do the right things with the support of Epitomise strategic marketing services
      - Execute in the right way with Epitomise best-practice marketing executional services
* Cranfield Strategic Marketing and Chartered Institute of Marketing Diploma qualified
* A certified Google partner; qualified in search ads, display ads, YouTube ads, and shopping ads
* Extremely results focused with excellent communication, progress reviews and optimisation of approach
* A comprehensive range of flexible marketing services that are aligned to your specific business needs.
We are qualified experts in strategic, traditional and digital marketing. We are trustworthy, responsive, flexible and easy-to-work-with. As well as being results focused, honest and transparent, we deliver what we say to quality and on time.
Our promise:
With a rare combination of senior, strategic, and expert digital marketing practitioner experience we will help you to identify and select the right marketing strategies, and we will always operate to the very best of our experience, knowledge and ability, in supporting you and your team in achieving your aims, executing in the right way. With a measured approach, we will ensure you are kept informed and we will provide you the freedom to focus on your other priorities with confidence whilst we get on with what you expect of us.
"Steve is a pleasure to work with. His extensive knowledge of marketing, and specifically in our sector, is impressive and his structured and inclusive style worked well in getting us all to focus on what really makes the difference. I'd recommend him to anyone who is looking for real strategic advice and guidance that comes with practical and clear deliverables. Thanks for all your help Steve and I hope we can continue to work together on future projects!"

Cindy Philips
Head of Marketing | OGL Computer, OGL Software & CyberGuard
"Steve and team have worked really hard to understand our aspirations and the people we 'want to reach out to'. We agreed targets we would see as a success to our business and we have exceeded these to date and within Steve's original budget forecast. Great management reports into us and not afraid to nudge us back on track when we veer a little off course from Steve's original plan! Would highly recommend!"

David R Mays
Director – AppTechnology