Create a winning business and/or marketing strategy
Use our proven 10-step strategic approach to grow. Achieve more leads, sales, customers, and profit.
We look at where you are and where you want to be. We then help you create the prioritised and resourced strategic business and/or marketing plan to get you there. We can also help you execute the plan, either through highly-experienced mentoring or as your expert marketing service provider.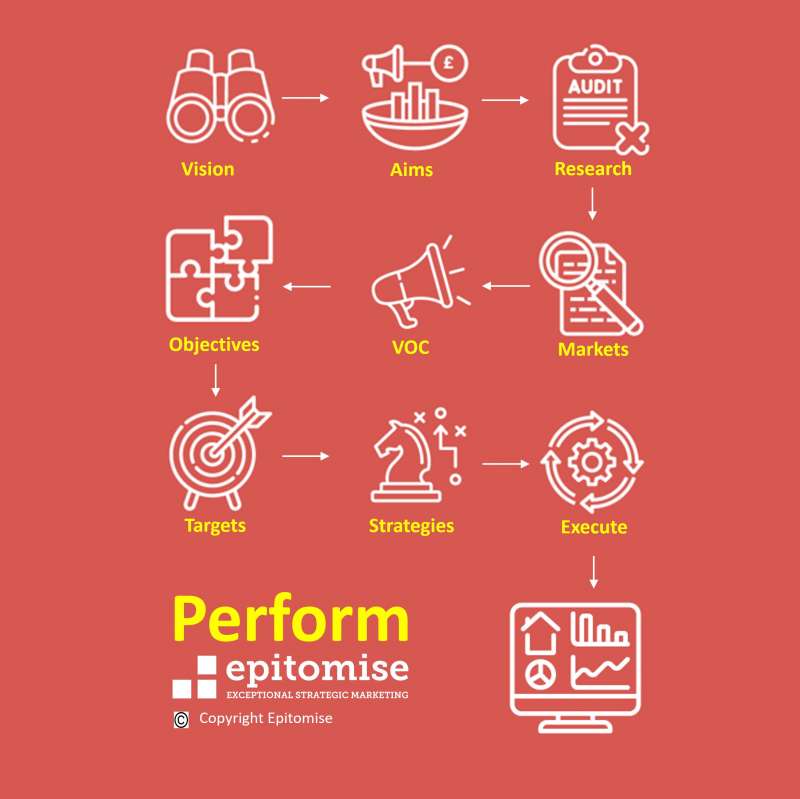 Our 10 core steps to help you achieve strategic growth:
1) Set the vision and mission. Define the company's values
2) Agree the strategic and directors' growth aims
3) Market and competitor research. Complete business audits
4) Select the target markets and segments
5) Obtain voice of the customer feedback
6) Set the vital few SMART objectives (The What)
7) Set the key growth and priority targets
8) Develop and resource the growth strategies (The How)
9) Execute with best practice marketing
10) Performance management to results.
Our unique transformative approach has accelerated growth for start-ups, struggling companies, and successful businesses with ambitious growth aims. 
The Transform Accelerator
Discover new opportunities in your business and sustainably increase your revenue by following our trusted plan. Manageable growth that considers today's challenges and cash-flow constraints.
Delivering exceptional results, at the lowest cost, is commonly achieved by understanding and backing winning strategies. We have significant experience in devising and delivering strategic growth with modern approaches and practices that really work. Don't waste scarce resources, time and money, leverage our experience. The strategies we can help you create include:
Company strategy
Brand strategy
Portfolio strategy
Market strategy
Segmentation strategy
Messaging strategy
Market entrance strategy
Market development strategy
Go-to-market strategy
Customer retention strategy
Marketing strategy
Communications strategy
Demand generation strategy
Digital marketing strategy
Marketing content strategy
Marketing automation strategy
Sales channel strategy
Partner program strategy
Ecommerce strategy
Organisational strategy
Operational strategy
Once your strategy has been created we help you create and execute plans, along with building modern and best practice process muscle, to deliver the desired strategic aims. We help you exactly where you need us when you need us. Specific plans we can help you create and deliver include:
Business plans
Marketing plans
Demand generation plans
Digital marketing plans
Campaign plans
Communication plans
Messaging plans
Marketing content plans
Account based marketing plans
Marketing automation plans
Skills development plans
Competitive attack plans
Customer retention plans
Operational plans
eCommerce plans
Country entry plans
Country growth plans
Sales channel plans
Channel onboarding plans
Channel partner program plans
Sales enablement plans
"Epitomise helped KT Secure to create its 3-year Business Strategy and annual Marketing Plan. Also, acting as our part-time Marketing Director, they helped us recruit an excellent Marketing Manager and enhanced our marketing to achieve ambitious growth aims. I would have no hesitation in recommending their services to any company looking to grow."

Vin Varatharajan
Managing Director - KT Secure (Cyber Security)
"Epitomise have created the momentum and direction needed to achieve Business IT Plus aims. Steve's experience and confidence in this field are very evident which filled me with confidence for a successful outcome. Steve is a great guy to work with and is straight to the point and has a great sense of urgency."



Gary Smith
Managing Director – Business IT Plus
Free 2024 Marketing Strategies Check Up?Instantly Get Your Marketing Health Score and 20-Page Action Report
Complete 30 easy-to-answer questions and immediately receive your marketing health score and free 20 page detailed action report. This will be cram packed with tailored hints, tips and best practices, all linked to your answers that will help you grow and improve your marketing.
Start Instant Check Up>